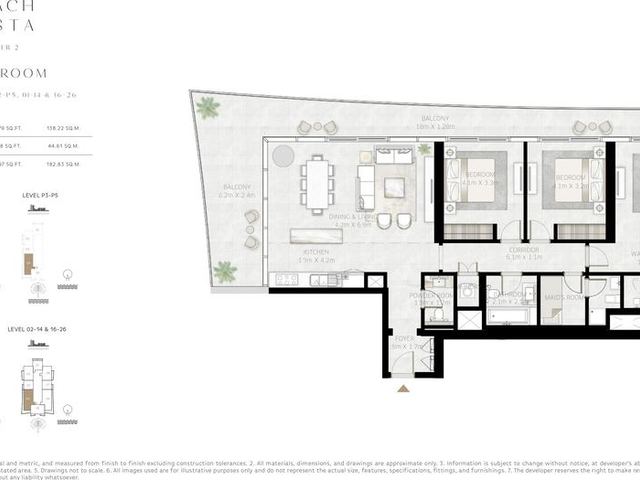 Overview
| | |
| --- | --- |
| Ref. | Z016 |
| Surface | 138.22 m² |
| Bedrooms | 3 |
| Bathroom | 2 |
Detailed description
KIFFER & PARTNERS is delighted to present you an exclusive residential complex within the new maritime epicentre of the UAE, Dubai Harbour.

The meticulously master-planned beachfront development represents a unique blend of cosmopolitan living in a prime location and a idyllic seafront lifestyle.
This property offers you a broad range of 1 to 4-bedroom luxury apartments. Some of the apartments will overlook the crystal-blue waters of the Arabian Gulf, while others will sport views of Dubai Marina.

Residents of this beachfront property with high-end services will have exclusive access to a 750-metre long strip of beach, as well as seamless access to the main street Sheikh Zayed Road and Dubai Marina.

A major Boulevard stretching across the community will offer a broad range of retail outlets, stylish restaurants and trendy cafes, while the beach itself will be dotted with beach sport and resort-style facilities for a unique lifestyle.

Delivery in 2021

1 bedroom with 1 parking place from 314,000 EURO
2 bedrooms with 1 parking place from 460,000 EURO
3 bedrooms with 2 parking place from 950,000 EURO
4 bedrooms with 2 parking place from 1,327,000 EURO

For more information, please contact your KIFFER & PARTNERS advisor at 661 812 909 or by email: contact@kiffer-partners.lu
Do not hesitate to leave us a message or use our contact form, we will get back to you as soon as possible.

FRENCH :

KIFFER & PARTNERS vous propose un complexe résidentiel exclusif dans le nouvel épicentre maritime des Émirats arabes unis situé sur le port de Dubaï.

Le développement du front de mer, méticuleusement aménagé, représente un mélange unique de vie cosmopolite dans un emplacement privilégié et un style de vie idyllique face à la mer.
Cet ensemble vous propose une large gamme d'appartements de luxe d'une à quatre chambres à coucher. Certains des appartements donnent sur les eaux cristallines du golfe Persique, tandis que d'autres ont vue sur le port de plaisance de Dubaï.

Les résidents de cet ensemble immobilier aux prestations haut de gamme auront un accès exclusif à une longue bande de plage de 750 mètres, ainsi qu'un accès sans interruption à Sheikh Zayed Road, principale artère de la ville et à la marina de Dubaï.

Un boulevard important qui s'étend dans toute la communauté offrira un large éventail de points de vente, de restaurants élégants et de cafés branchés, tandis que la plage elle-même sera parsemée d'installations de sport sur la plage et de centres de villégiature pour un style de vie unique.

Livraison prévue : 2021

1 chambre avec 1 parking à partir de 314.000 EURO
2 chambres avec 1 parking à partir de 460 000 EURO
3 chambres avec 2 parking à partir de 950 000 EURO
4 chambres avec 2 parking à partir de 1 327 000 EURO

Pour plus d'informations, merci de contacter votre conseiller KIFFER & PARTNERS au 661 812 909 ou par mail : contact@kiffer-partners.lu
N'hésitez à nous laisser un message ou utiliser notre formulaire de contact, nous reviendrons vers vous dans les plus brefs délais.
Outside
Parking,
Terrace
Comfort
Bathroom
Energy pass
Energie pass pending
Position