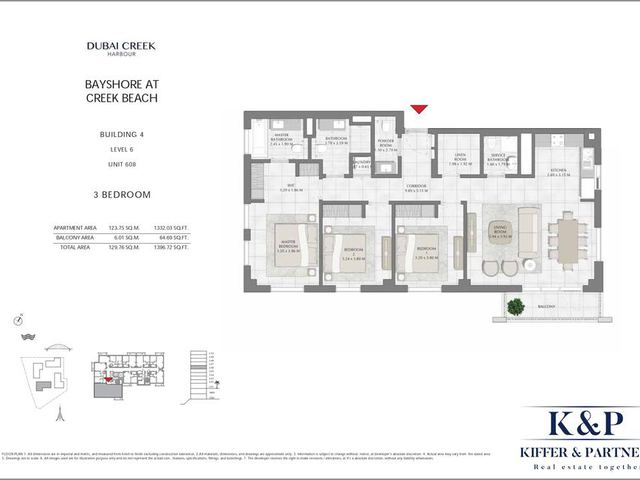 Overview
| | |
| --- | --- |
| Ref. | ZIRX |
| Year Built | 2019 |
| Bedrooms | 3 |
| Bathroom | 1 |
Detailed description
KIFFER and PARTNERS vous propose la résidence Bayshore Creek Harbour à Dubaï, compsée d'appartements élégants offrant une vue époustouflante sur la tour de Dubaï Creek.
Profitez du charme de Creek Beach et de Creek Marina. Ces appartements présentent de très bons rapports locatifs à court terme pour les nombreux touristes venant visiter Dubaï, vous obtiendrez ainsi un rendement net de 8% à 10% par an !

Détails de la résidence :

- Appartements de luxe de 1,2 et 3 chambres avec vue sur la crique
- Surfaces de 61 m2 à 138 m2
- Accès direct à la plage et canal
- Accès directs aux magasins et centres commerciaux
- Livraison en 2022
- Finition de haute qualité
- Fabriqué le n ° 1 aux États-Unis et du Moyen-Orient
- Payer 70% jusqu'à l'achèvement et le reste dans 2 ans

1 chambre à partir de 207 000 EURO
2 chambres à partir de 313.000 EURO
3 chambres à partir de 458 000 EURO

ANGLAIS

KIFFER and PARTNERS offers Bayshore Residence in Dubai Creek Harbor, elegant apartments with breathtaking views of Dubai Creek Tower,
Enjoy the charm of Creek Beach and Creek Marina. These apartments have very good short term rental reports for tourists coming to Dubai, you will get a net return of 8% to 10% per year!

Details of the residence:

- Luxury 1,2 and 3 bedroom apartments with views of the cove
- Surfaces from 61 m2 to 138 m2 - Direct access to the beach and canal
- Direct access to stores and shopping centers
- Delivery in 2022
- High quality finish
- Made the # 1 in the United States and Middle East
- Pay 70% until completion and the rest in 2 years

1 bedroom starting from 207,000 EURO
2 bedrooms starting from 313.000 EURO
3 bedrooms starting from 458,000 EURO


Pour plus d'informations, merci de contacter votre conseiller KIFFER & PARTNERS au 661 812 909 ou par mail : contact@kiffer-partners.lu
N'hésitez à nous laisser un message ou utiliser notre formulaire de contact, nous reviendrons vers vous dans les plus brefs délais.

For more information, please contact your KIFFER & PARTNERS advisor at 661 812 909 or by email: contact@kiffer-partners.lu
Do not hesitate to leave us a message or use our contact form, we will get back to you as soon as possible.
Outside
Balcony
Comfort
Lift,
Bathroom
Energy pass
Energie pass pending
Position