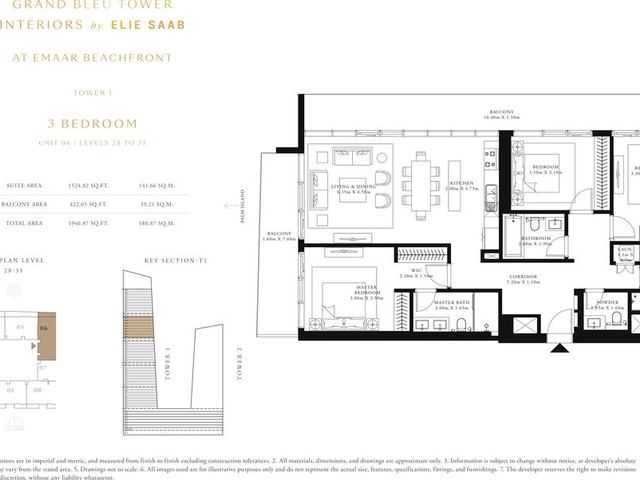 Overview
| | |
| --- | --- |
| Ref. | ZJEN |
| Surface | 141.66 m² |
| Bedrooms | 3 |
| Bathroom | 1 |
Detailed description
KIFFER and PARTNERS est ravi de vous présenter la résidence Grand Bleu Tower by Elie Saab, un nouveau projet de construction d'appartements résidentiels dans la communauté la plus attendue du secteur riverain de Dubaï, Emaar Beachfront.

Cette opportunité d'investissement premium proposera une gamme d'appartements d'une à quatre chambres avec vue directe sur le Palm, la Marina de Dubaï et le parc. Les aménagements contemporains et les finitions exceptionnelles, ainsi que les grandes fenêtres laissent entrer beaucoup de lumière et maximisent la vue de chaque appartement.

Les résidences vous offriront des aménagements de style de vie exceptionnels, notamment des installations de remise en forme ultramodernes, terrasse, piscine et une sélection de restaurants et de commerces de luxe au pieds de la résidence.
Les résidents bénéficieront d'un accès direct à la plage. Emaar Beachfront, qui a déjà connu un grand succès avec le lancement de trois tours d'appartements l'an dernier, est le quartier le plus unique du secteur riverain de Dubaï.
Cette île fermée privée est située entre la côte de Jumeirah Beach Residence et Palm Jumeirah. Ce développement dynamique comprendra un mélange d'appartements haut de gamme au bord de l'eau et d'hôtels de luxe. Il abritera également le phare de Dubaï, une tour de 135 mètres, une icône architecturale qui donnera une vue à 360 degrés sur le littoral et la mer d'Arabie.

KIFFER and PARTNERS vous propose un service de recherche immobilière sur mesure pour tous vos besoins immobiliers au Luxembourg et maintenant à Dubaï. Votre arrivée est prise en charge directement sur place par les agents immobiliers locaux qui vous présenteront les biens encore disponibles et se chargeront de la mise en location pour votre futur investissement locatif.

1 chambre à partir de 404 253 €
2 chambres à partir de 602 749 €
3 chambres à partir de 987 638 €
4 chambres à partir de 1 629 119 €

Pour plus d'informations, merci de contacter votre conseiller KIFFER & PARTNERS au 661 812 909 ou par mail : contact@kiffer-partners.lu
N'hésitez à nous laisser un message ou utiliser notre formulaire de contact, nous reviendrons vers vous dans les plus brefs délais.


KIFFER and PARTNERS is excited to introduce Grand Bleu Tower designed by Elie Saab a new residential apartment project in Dubai's most anticipated waterfront community, Emaar Beachfront.

This premium investment opportunity will feature a range of one to four bedroom apartments with direct views of the Palm, Dubai Marina and Park. Contemporary fixtures and exceptional finishes, as well as large windows let in lots of light and maximize the view of each apartment.
The residences will provide you with exceptional lifestyle amenities, including state-of-the-art fitness facilities, sun terrace, swimming pool and a selection of restaurants and deluxe shops at the doorstep.

Residents will have direct access to the beach. Emaar Beachfront, which has already had great success with the launch of three apartment towers last year, is Dubai's most unique waterfront district. This private gated island is located between the coast of Jumeirah Beach Residence and Palm Jumeirah. This dynamic development will include a mix of upscale waterfront apartments and luxury hotels. It will also house the Dubai Lighthouse, a 135-meter tower, an architectural icon that will give a 360-degree view of the coastline and the Arabian Sea.

KIFFER and PARTNERS offers a tailor-made real estate search service for all your real estate needs in Luxembourg and now in Dubai. Your arrival is supported directly on the spot by the local real estate agents who will present you the goods still available and will take care of the renting for your future rental investment.


1 bedroom from 404,253 €
2 bedrooms from 602,749 €
3 bedrooms from 987,638 €
4 bedrooms from 1,629,119 €

For more information, please contact your KIFFER & PARTNERS advisor at 661 812 909 or by email: contact@kiffer-partners.lu
Do not hesitate to leave us a message or use our contact form, we will get back to you as soon as possible.
Outside
Terrace
Comfort
Lift,
Bathroom
Location
Nearby town center,
Nearby pedestrian area,
Nearby public transport,
Nearby shops,
Quiet and pleasant conditions
Energy pass
Energie pass pending
Position